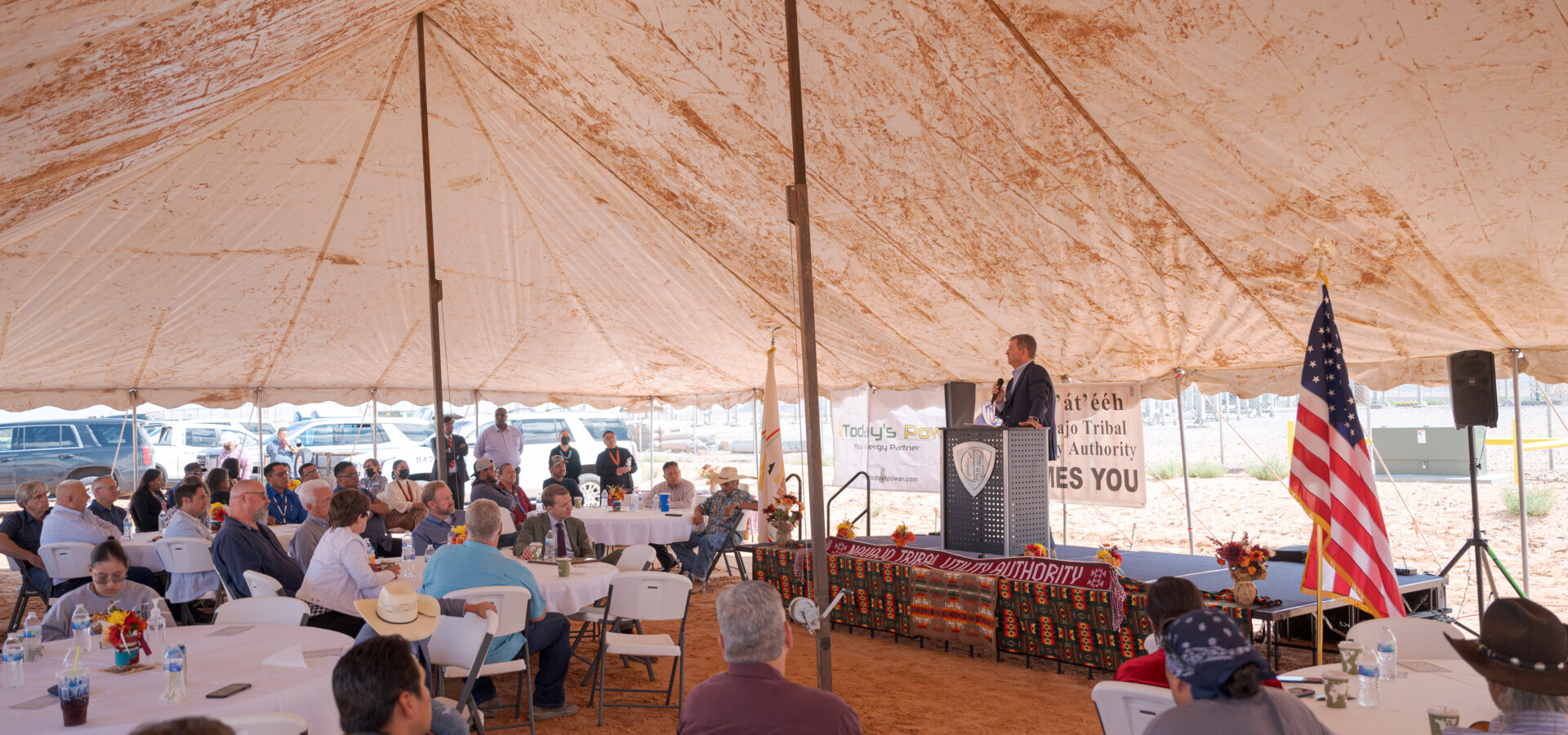 08.31.23
On August 25, 2023, SOLV Energy joined the Navajo Tribal Utility Authority (NTUA) at a ribbon cutting ceremony for the Red Mesa Tapaha solar project. The event brought together project partners and Navajo Nation leaders, including President Buu Nygren and Council Resources and Development Chairwoman Brenda Jesus, to celebrate a milestone in the Navajo Nation's transition to clean, renewable energy.
Red Mesa is a 72 MWac/100 MWdc megawatt utility solar project located on 500 acres in southeastern Utah. The facility will power 19 communities, including 3 Nation Chapters, and contribute an estimated $20.6 million in revenue to the Navajo Nation. SOLV Energy was the engineering, procurement and construction (EPC) contractor on the project, which kicked off in early 2022. Red Mesa is SOLV Energy's second project with NTUA.
The projected impact of the Red Mesa Tapaha Solar Farm includes $11 million in total wages paid and $38.5 million of economic activity in San Juan County, Utah. During construction, the Red Mesa project employed over 90% labor of Navajo descent. Two Navajo residents who worked on the project during construction joined the SOLV Energy team as solar technicians and will oversee the project as part of a long-term operations and maintenance (O&M) agreement for Red Mesa.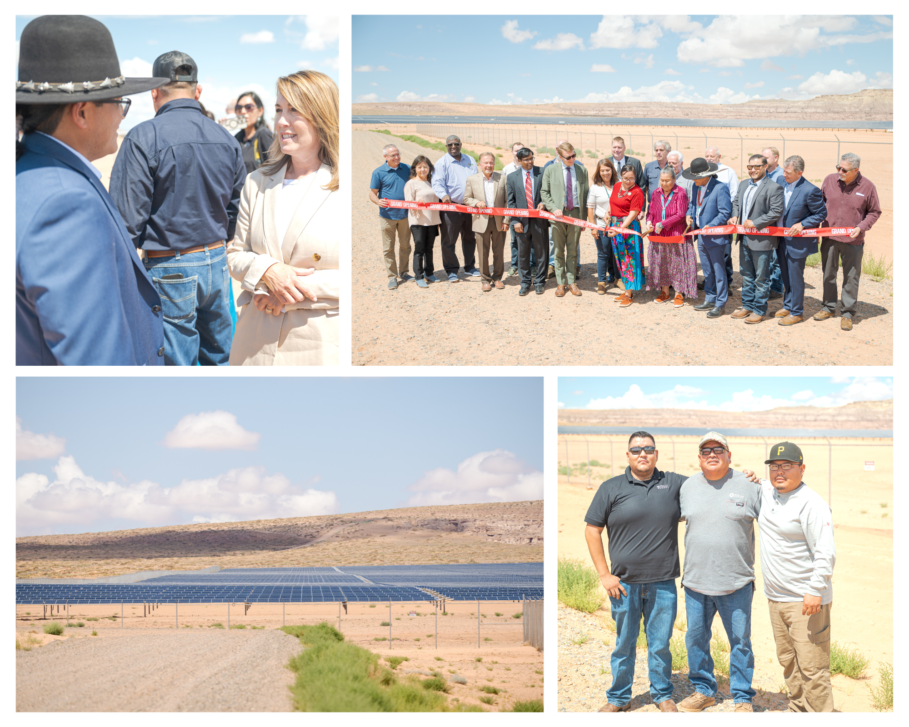 SOLV Energy's work in the area began in 2018 when we built the Kayenta 2 solar project. Since then, we've continued to build relationships in the community through several initiatives including PowerUp! Empowered Education, an effort to support Navajo students with remote learning resources during the COVID-19 pandemic, and Skip the Grid, a partnership with Cal Poly SLO University that provides free Goal Zero solar powered systems to Navajo families without transmitted power.
On March 30, 2023, a ribbon-cutting ceremony celebrated a new STEAM lab at Red Mesa Unified School District, a joint venture between SOLV Energy and Heart of America (HOA). The space offers K-12 students hands-on activities and advanced tech, including VR/AR and robotics. In the lab's 'Good Energy Corner', students explore local solar projects and renewable energy careers.
The Red Mesa project team volunteered their time and tools to bring the STEAM lab to life. HOA President and CEO, Jill Hardy Heath, expressed her gratitude for their generosity and involvement:
"The SOLV Energy team was AWESOME! Not only did they bring their A-game, but they also brought their own tools, built robots, assembled furniture, painted, interacted with the kids and tested out the virtual reality glasses! Having SOLV Energy employees volunteering and showing the students that there are people from the Navajo Nation who are building the Red Mesa solar plant AND serving the community they live, work and grow in was a gift."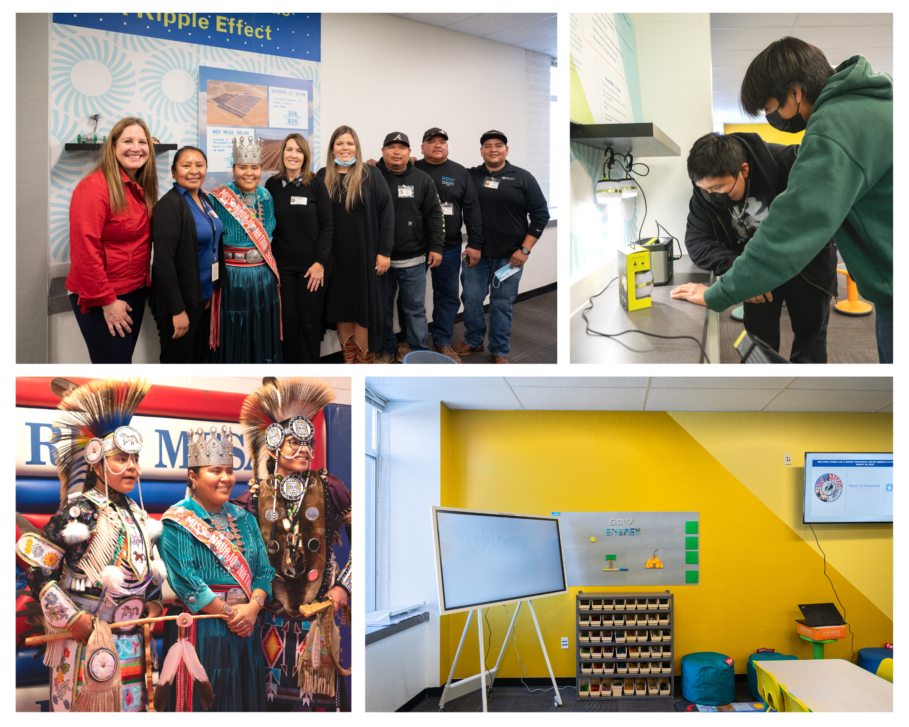 Congratulations to NTUA, the SOLV Energy project team and all project partners on the success of the Red Mesa Tapaha Solar Farm!
Back to all news