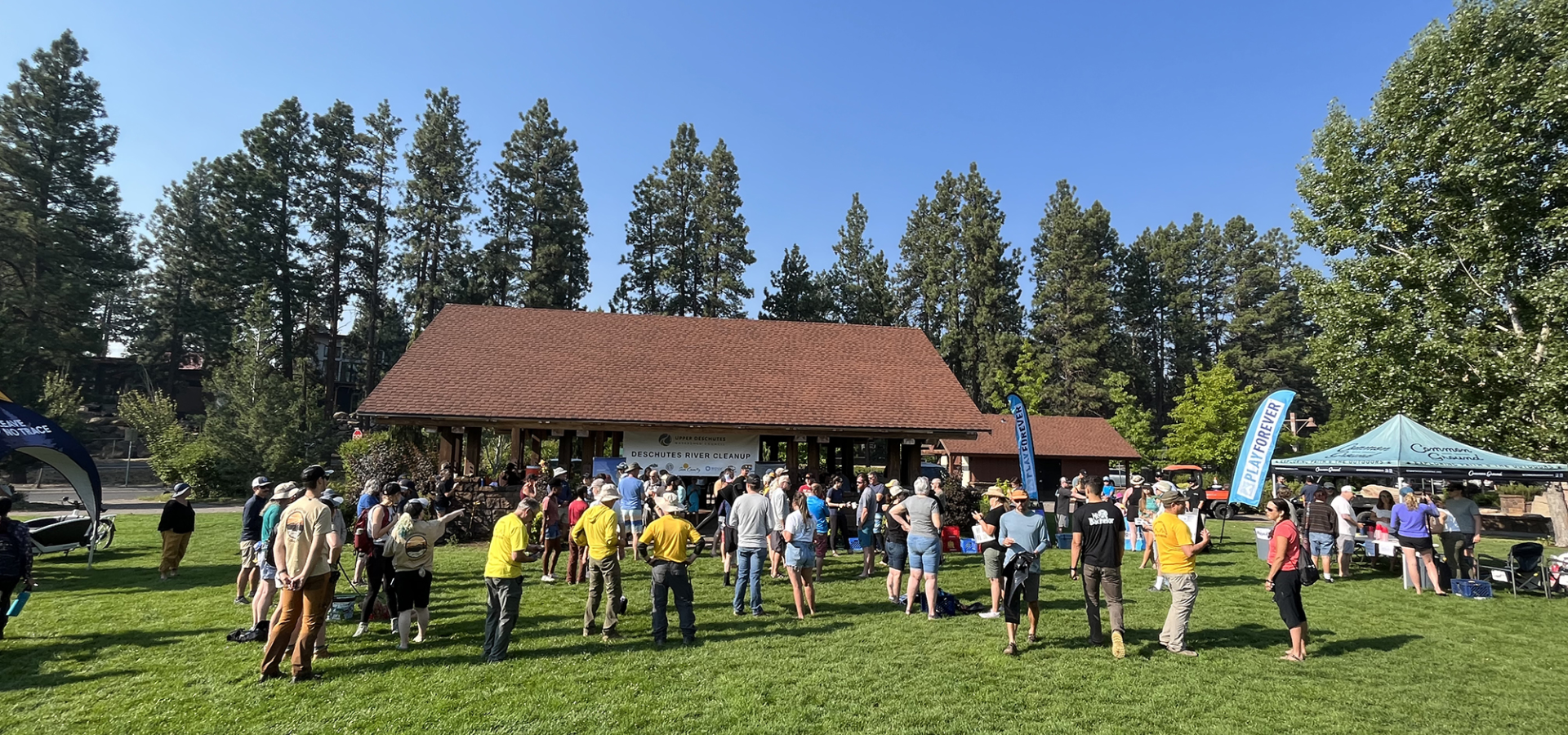 09.15.23
By Stacey McKinney, Sustainability Manager
In celebration of World Cleanup Day, members of the SOLV Energy team in Bend, Oregon volunteered with the Upper Deschutes Watershed Council's Deschutes River Cleanup. This annual event takes place along the sensitive riparian areas of the Deschutes River at several different sites.
At the cleanup, over 200 people worked together to pull more than 2,500 pounds of garbage and debris from the river. Scuba divers scoured the bottom of the river, frequently surfacing to hand the debris to paddleboarders and boaters to take the garbage to shore. Other volunteers walked the stream banks to remove litter and pull weeds. Most of the garbage was due to "floaters" dropping personal items like cans, bottles, cell phones and many pairs of sunglasses.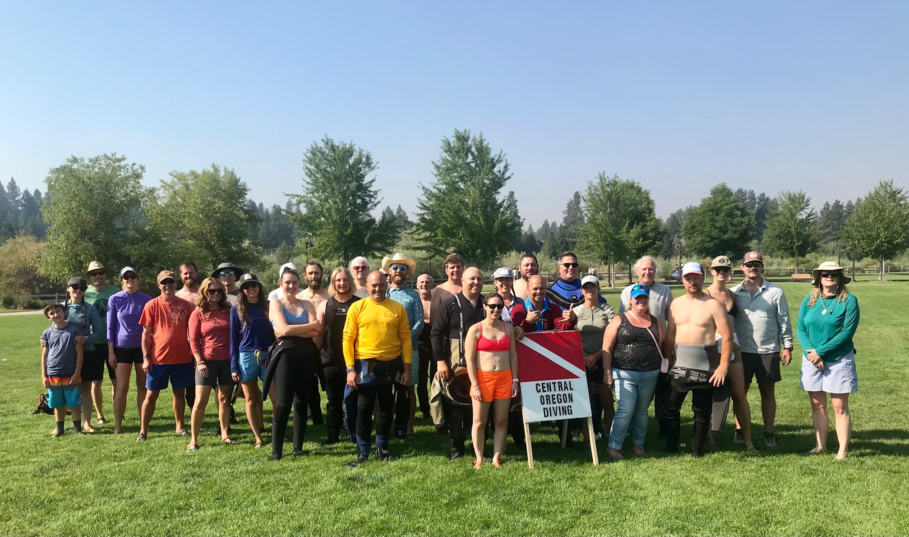 Despite the 2,500-pound haul, the cleanup crew reported that this was the cleanest they've seen the river in years, which means education and awareness efforts are working.

A Vital Resource in Central Oregon
The Deschutes River was designated a Federal Wild and Scenic River in 1988, and portions run through rimrock-lined canyons that range from 900 to 2,600 feet deep. Originally named Towarnehiooks by the Nez Perce tribe, early fur traders called the river Riviere des Chutes, which means "River of the Falls". Eventually, the name was shorted to 'Deschutes'.
Today, the Deschutes River flows through the heart of Bend, Oregon and remains one of the most cherished and utilized natural resources in the Central Oregon area. The Deschutes features gorgeous and rugged scenery, and loads of opportunities for recreation including hiking, rafting, biking, kayaking, and fishing. Overlooking the Deschutes, SOLV Energy's Bend office provides ready access to recreational opportunities and miles of walking trails for employees.
Beyond recreation, dams along the river enable the Deschutes to serve as a resource for water storage, timber conveyance and electricity generation. Dams have allowed agriculture to flourish in the high desert of Central Oregon, a landscape that would otherwise support just a fraction of the current population. Flows are actively managed to sustain a reliable agricultural water supply, and many allow for water storage in winter months, so that water can be released in summer for irrigation purposes.
As a result of damming, river capacity and flow are very low from November through March. Low winter flows degrade fish habitat, limit water for riparian plants and expose streambank soils to freezing and thawing. Later in the year, high summer flows can scour streambanks and cause erosion, sending soil downstream to settle in areas where flows are slow.
SOLV Energy's Commitment to Our Environment
SOLV Energy understands that our activities and work have impacts on the environment, both globally and locally. We believe that it is our responsibility as members of the community and business leaders to actively manage and minimize our environmental impacts. Going beyond environmental compliance and adherence to regulations, we assess, track, and address broader environmental considerations most material to our operations and to our stakeholders. Specific focus areas may include greenhouse gas emissions (GHG), water quality and water conservation, waste generation and minimization, recycling practices, land use, biodiversity, toxic materials, procurement and use of renewable energy, sourcing materials with a minimal impact on the environment, energy efficiency and energy conservation (through our use of vehicles, facilities, equipment) and more.
Applying a holistic approach to generating good energy for people and the planet, SOLV Energy empowers and supports our employees in their efforts to be environmental stewards and responsible neighbors in their communities. Our community relations initiative allows team members to double their impact, providing reward dollars for the time and money they donate to eligible organizations that can then be donated back to nonprofits they're passionate about.
From the Deschutes River in Bend to the San Diego coastline and everywhere our people work, SOLV Energy recognizes World Cleanup Day, a Global Day of Action that aims to raise awareness of the mismanaged waste crisis by encouraging individuals, corporations and organizations to participate in cleanup events big and small. We hope you'll join us by taking action on September 16th, 2023.
About the Upper Deschutes Watershed Council
The Upper Deschutes Watershed Council seeks to protect and restore the two-million acre Upper Deschutes River watershed through collaborative projects in habitat restoration, watershed education, and long-term monitoring. With local support from landowners, ranchers, environmental interests, local citizens, and representatives from local governments and agencies, the Council leads cooperative, grass-roots efforts to improve watershed conditions. This grass-roots approach ensures that a balance of affected and interested stakeholders is involved to craft effective management strategies for our watersheds.
https://www.bendbulletin.com/l...
Back to all news