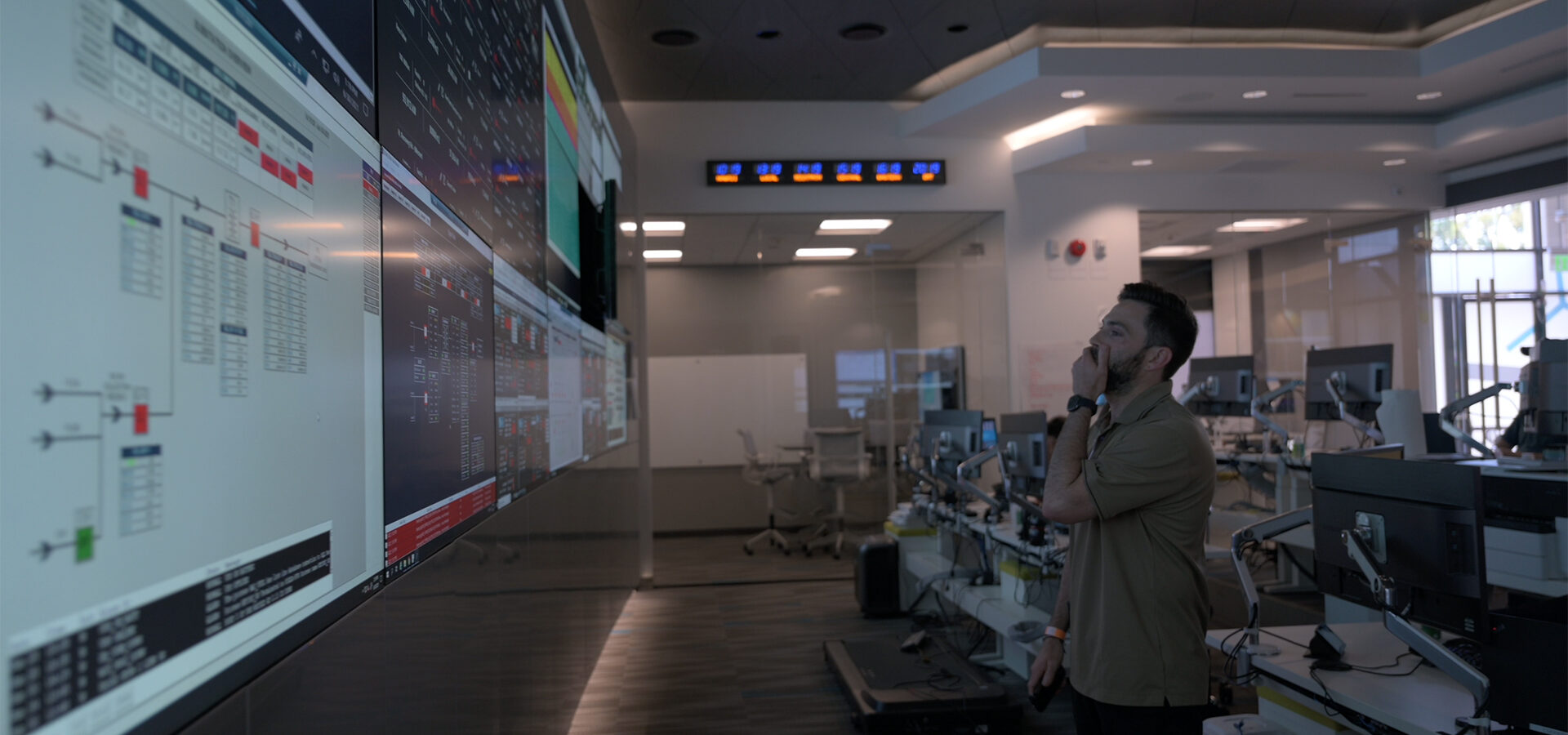 05.22.17
Press Release
SOLV, a Swinerton company, is pleased to announce the completion of its new Operations and Control Center (OCC) in San Diego. Construction on the 7,000 square foot facility began in December 2016 and has served as the home office for the SOLV team since May 1, 2017.
SOLV provides full-service operations and maintenance (O&M) and real-time performance monitoring for over 3,900 megawatts (MW) of solar facilities in North America. The new OCC will allow the company to continue to expand its portfolio to include other renewable energy resources including wind, geothermal, and battery storage, which require 24/7 monitoring capabilities.
The SOLV OCC was designed for medium-impact facility compliance under the regulatory protocols created by the North American Electric Reliability Corporation (NERC). Located adjacent to Swinerton's San Diego office, the renovated office space features three levels of secure access, a separate IT server adhering to Generator Operator (GOP) protocol, backup power, and various additional procedures and processes that meet NERC obligations to mitigate risks associated with increased generation consolidation.
In addition to increased security, the expansion project allows for significant portfolio growth for SOLV. Inside the OCC, the SOLV team will operate and monitor renewable projects across the country viewable on 24 connected screens totaling 32 feet wide by 6.5 feet tall. Approximately 25 to 30 people will work in the office, which offers ergonomic work stations, standing desks, skylights, LED lighting, a community kitchen area, and back patio to create a workplace suitable for around-the-clock monitoring.
"SOLV's 24/7 OCC will support the timely communication of alerts and follow-up between the on-site technician, client, utilities or ISO's and other reliability entities to monitor and optimize a site's availability to produce power and maximize revenues," said Reegan Moen, Business Development Manager for SOLV. "We are proud to offer added value of around-the-clock service to both current and future clients."
Named the #1 Affiliated Service Provider (ASP) by GTM Research in 2016, SOLV is the go-to group for dozens of owners in the U.S. for services on both plants built by Swinerton Renewable Energy or third-party EPCs. The company expects to begin providing monitoring services from the new OCC in late May.
About SOLV®
SOLV brings unmatched value to our renewable energy clients. Our EPC experience taught us that a complete solution was needed. SOLV evolved into providing the best service for our customers. SOLV is backed by Swinerton Builders, a 125+ year-old construction company. The SOLV solution includes SMART monitoring, data analytics, asset management support, in-field technicians and SCADA platforms providing the best optimization and management solution.
Our national in-house SOLV Team configures a custom energy plan, analyzes vitals detecting the smallest concerns, and diagnoses plant issues in order to respond with SMARTer solutions. SOLV performance engineers and operations network staff continually monitor owners' facilities, all with pinpoint accuracy. Plant performance anomalies and system concerns are evaluated in minutes prior to service call deployment.
Contact:
Scarlett Chepke
Swinerton Renewable Energy and SOLV
858.815.2414
schepke@swinerton.com
Back to all news