07.27.23
In May 2023, our Resolve DEI council announced the Resolve and DEI In Action Roadshow, an 18-city DEI awareness and community service campaign. The Roadshow included 12 tour stops with one final stop that hosted a virtual session to ensure all SOLV Energy employees were included in the DEI message. Each stop of the Roadshow consisted of two parts: the Resolve workshop segment and the DEI In Action service and cultural awareness segment.
ShaLonda Dwight, SOLV Energy's Director of Talent Acquisition & Diversity, shared that "Building a diverse, equitable and inclusive organization is fundamental to who we are and aspire to be. The RESOLVE DEI Council created the RESOLVE and DEI In Action Roadshow as a way to connect with employees to provide education, support and resources that help us flourish. The Roadshow connected over 500 employees across 11 locations and donated a total of $30k to10 non-profit organizations that serve people from marginalized communities from 7 demographic backgrounds. Leading the Roadshow directly equipped team members with greater DEI awareness and access to resources that promote a culture of inclusion. I'm proud of what we have accomplished so far and excited for the future as we continue working to foster inclusive workplaces where all of our employees feel a sense of belonging!"
The Resolve workshop segment took place at one of our local job site locations. The interactive workshops were hosted by senior SOLV Energy leaders, members of our Resolve council, and an expert DEI facilitator. Local SOLV Energy team members had the opportunity to share about their personal experiences in a controlled and safe environment.
The DEI In Action segment partnered with a local non-profit organization that serves individuals from marginalized communities. These community service and cultural awareness activities joined SOLV Energy leaders, members of our Resolve council, and our SOLV Energy team to support the local community is areas of focus such as: women, Latinx, Black, Asian, LGBTQIA+, veterans, and people with disabilities. Resolve council members shared their experiences during each stop of the Roadshow, check out their highlights and takeaways below.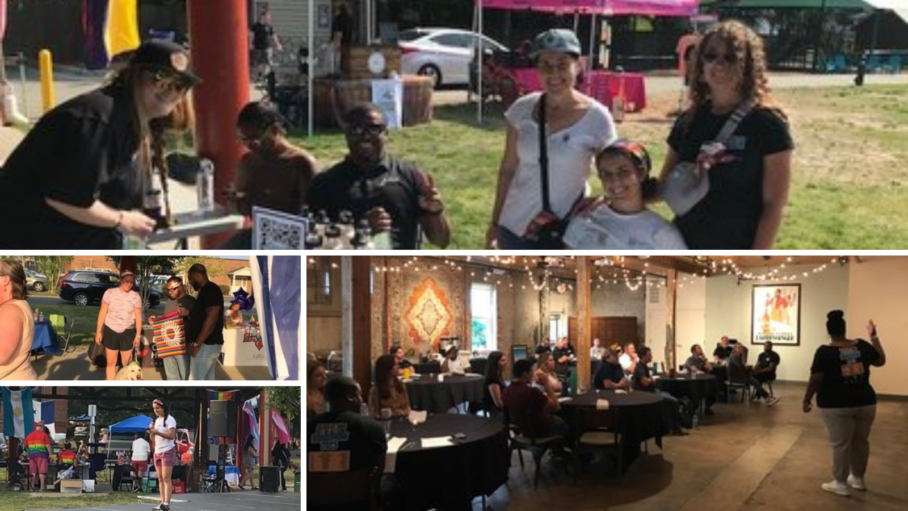 Raleigh Office

SOLV Energy HV Training & Technical Support Supervisor, Rick Jonell: We volunteered at the Orgullo Latinx Pride Festival to support the LGBTQ+ Latinx community. The festival offered live performances and family activities for all to enjoy. El Centro Hispano (ECH) is the largest Latino-led and Latino-serving organization in North Carolina. Founded in 1992 with a focus on strengthening the community, building bridges, and advocating for equity and inclusion. ECH hosted Orgullo Latinx Pride Festival to recognize and celebrate the Latinx & LGBTQ+ communities during Pride Month. The team showed well, with many SOLV employees and family members attending. The team made an impact by showing that our company supports the diversity of people and cultures found all across the country. As part of the participation at the festival, SOLV was handing out rainbow scarves and armbands. By the end of the day, the SOLV swag was seen being worn by many across the grounds, including many well-decked-out and happy dogs! Everyone had a good time!
We visited one of our main offices, Raleigh. The workshop was held at Jiddi Space, a meeting area behind one of Raleigh's Lebanese restaurants. Different topics discussed were the DEI fundamentals, celebrating diversity, and how to build inclusion and integrate it into your day-to-day interactions with your peers and coworkers.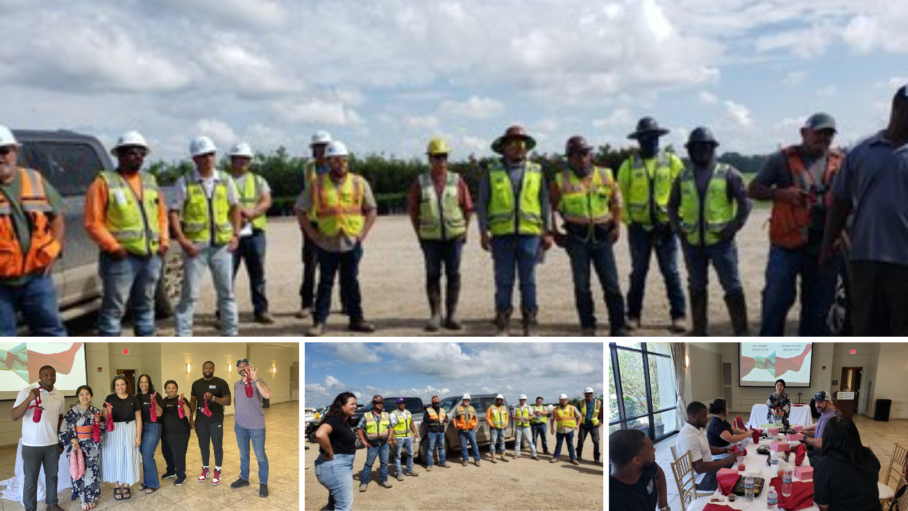 Wildflower
SOLV Energy Assistant Project Manager, Devon Mackey: The Resolve workshop was held at Wildflower in Walls, MS. It was unique that most everyone shared their thoughts in the breakout sessions. The most significant topic discussed at Wildflower was Superintendents want to feel heard and understood by their managers. The managers seem to hide their true selves because of their higher position. Managers should start checking in with their superintendents personally to ensure everyone on the team is doing okay.
SOLV Energy Senior Talent Acquisition Partner, Linda Drews: On Friday, June 23rd, the Resolve Team stopped at the Memphis Botanic Gardens and the Japan Outreach Initiative. This DEI action stop helped our team gain more cultural knowledge about Japanese and Asian cultures. The Memphis Botanic Garden partners with the University of Memphis to help bring more cultural awareness where it is less accessible. It serves over 260,000 visitors each year. The Memphis Botanic Garden is a 96-acre property that includes 30 gardens. Our team was treated to a guided educational tour of the Seijaku-En (which translates to "Garden of Tranquility") and the Asia Garden. After the guided tour of these gardens, we enjoyed a tea ceremony at the Moongazing Pavilion. A student from Japan taught us how to make traditional matcha tea; this was neat since it is different from soaking or steeping a tea bag in hot water. We used bamboo whisks to mix the matcha with the hot water until it foamed. After making our tea, we learned that you drink it by holding the tea cup a certain way before you drink it. After we experienced the tea ceremony, we ate a tasty bento lunch and practiced our skills at using chopsticks to eat our lunch. After lunch, we learned how to use a Furoshiki. A furoshiki is a traditional square wrapping cloth that can be used in many ways to help wrap items. Our Japanese tutor Mika told us that this tradition has been used less recently due to plastic bags. However, she said that the Japanese are moving back to using this traditional cloth as a way of helping the environment. The cloth can be used to wrap gifts, groceries, clothes, and more! We were instructed on how to make a water bottle holder, bento box wrap, and twin wine bottle holder. Each way you wrap the cloth can also create different designs; for instance, one design we made looked like a butterfly, and another looked like a rose. After our lesson, we kept the sample furoshiki cloths to take home and kept using or practicing our cloth wrapping techniques. I plan to keep practicing and purchasing different types of clothes and use my newly learned skills to wrap some holiday or birthday presents this year. And whoever receives them can reuse the furoshiki! What a great way to recycle and reuse. This was an amazing opportunity to learn more about my ethnic Japanese culture. Quite a bit of what we learned during this visit was new, even though I am Japanese American. These were traditions and information that my Mom could not pass on to me. It was an incredibly humbling experience to be given this hands-on opportunity to learn about my ethnic culture and share it with others at SOLV Energy that day.
Back to all news