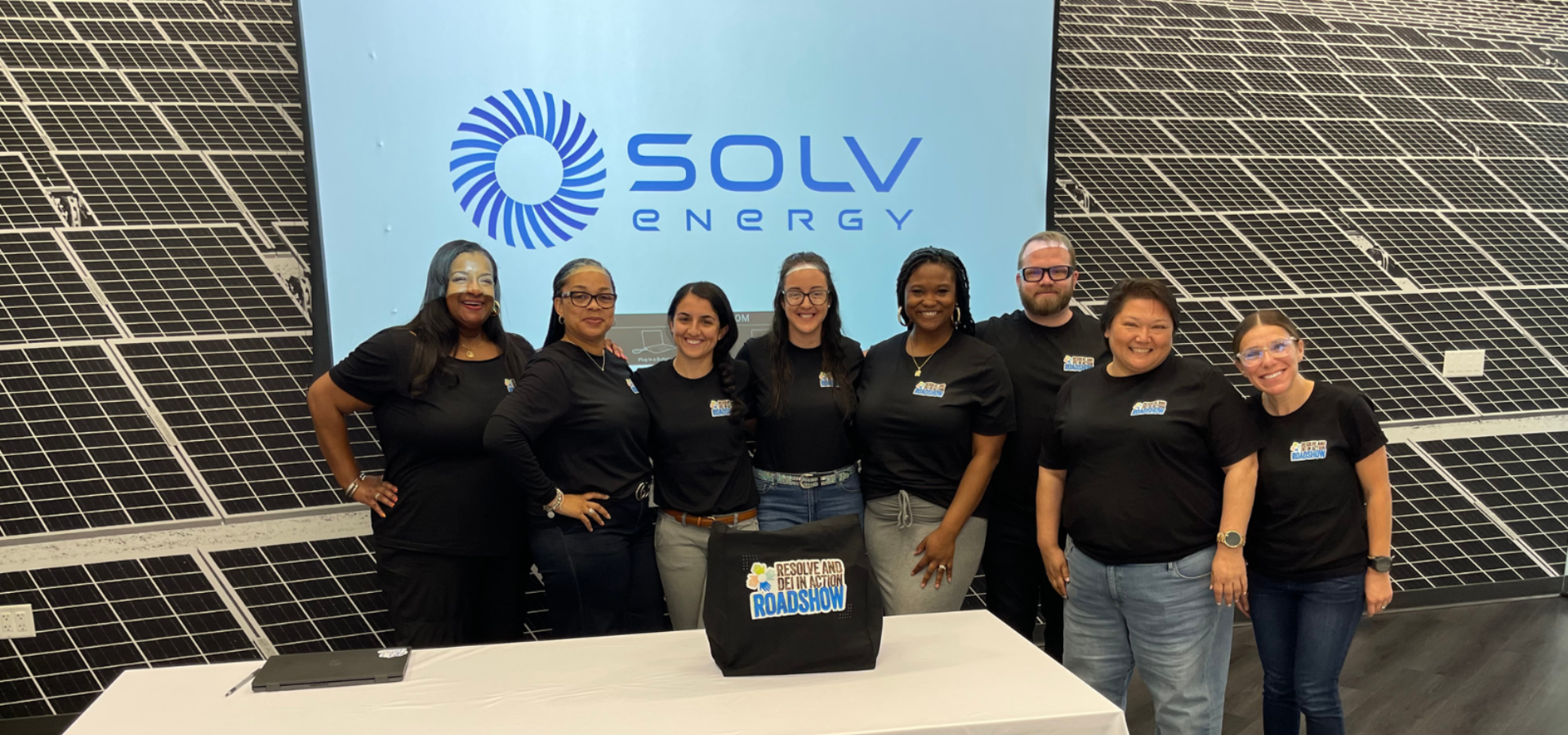 07.24.23
In May 2023, our Resolve DEI council announced the Resolve and DEI In Action Roadshow, an 18-city DEI awareness and community service campaign. The Roadshow included 12 tour stops with one final stop that hosted a virtual session to ensure all SOLV Energy employees were included in the DEI message. Each stop of the Roadshow consisted of two parts: the Resolve workshop segment and the DEI In Action service and cultural awareness segment.
ShaLonda Dwight, SOLV Energy's Director of Talent Acquisition & Diversity, shared that "Building a diverse, equitable and inclusive organization is fundamental to who we are and aspire to be. The RESOLVE DEI Council created the RESOLVE and DEI In Action Roadshow as a way to connect with employees to provide education, support and resources that help us flourish. The Roadshow connected over 500 employees across 11 locations and donated a total of $30k to10 non-profit organizations that serve people from marginalized communities from 7 demographic backgrounds. Leading the Roadshow directly equipped team members with greater DEI awareness and access to resources that promote a culture of inclusion. I'm proud of what we have accomplished so far and excited for the future as we continue working to foster inclusive workplaces where all of our employees feel a sense of belonging!"
The Resolve workshop segment took place at one of our local job site locations. The interactive workshops were hosted by senior SOLV Energy leaders, members of our Resolve council, and an expert DEI facilitator. Local SOLV Energy team members had the opportunity to share about their personal experiences in a controlled and safe environment.
The DEI In Action segment partnered with a local non-profit organization that serves individuals from marginalized communities. These community service and cultural awareness activities joined SOLV Energy leaders, members of our Resolve council, and our SOLV Energy team to support the local community is areas of focus such as: women, Latinx, Black, Asian, LGBTQIA+, veterans, and people with disabilities. Resolve council members shared their experiences during each stop of the Roadshow, check out their highlights and takeaways below.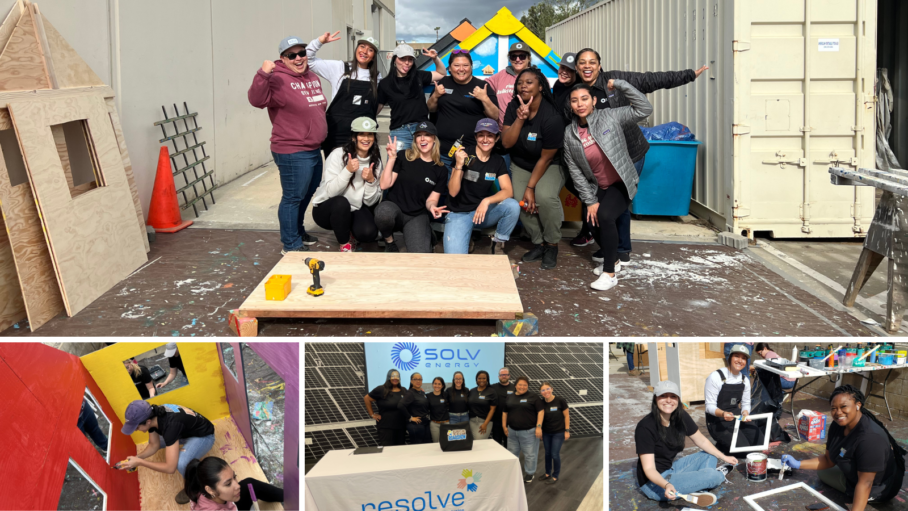 San Diego
Operational Training Manager, Kristina Santizo: On May 11, 2023, SOLV Energy kicked off the Resolve and DEI in Action Roadshow at the San Diego Office. The meeting was held at our headquarters in San Diego. Employees across all departments participated to learn about diversity, equity, and inclusion. This provided a well-rounded group of individuals and allowed for a diverse discussion. During the workshop, the team shared our thoughts on our identities and discussed different leadership skills that aid inclusion.

The first DEI awareness and community service stop was at the San Diego Habitat for Humanity's Women Build. The project's mission is to support women in bringing awareness that home ownership is a tool that can build strength, form stability, and increase independence. This month-long fundraiser focuses on building playhouses that will go to military families, child development centers, or Habitat for Humanity homeowners. All additional funding goes to current and future Habitat for Humanity builds. Our SOLV Energy team, made up of 10 hard-working women, worked together to build the "solar house," which was dubbed that name after we were tasked with designing the house to look "regular." We added solar panels, which we all thought was extremely fitting, and had fun creating, decorating, and mounting them. We wanted to spark that young child's curiosity as they will question what they are and start an important conversation about renewable energy. The ability to bond and have such a fun time with women in different departments throughout the company and simultaneously create the impact we did is truly the core of Resolve's mission.​​​​​​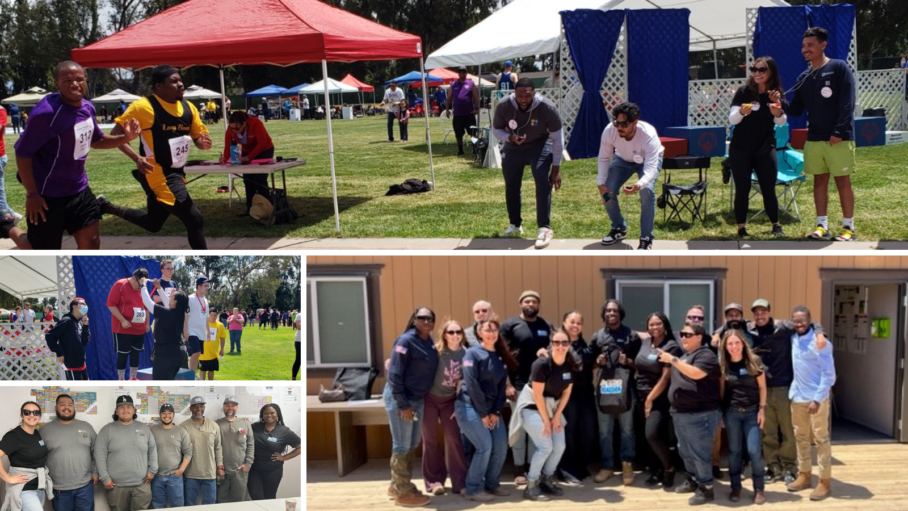 Oberon, Arica and Victory Pass
SOLV Energy Project Engineer, Chanel Jenkins: Miles of great work is happening at these large sites. This particular site was also eager to be a part of all the new things that we have happening around our organization, including Resolve. Our council discussed Resolve's objectives, the three subcommittees within the Resolve council and action items each subcommittee has been focused on over the last several months. We also introduced our internal '800 # Hotline' and issued business cards where this information can be easily accessed.
After our external consultant, Dr. Salwa, was introduced, we were able to dive deeper into what diversity and inclusion truly mean through lectures, small breakout sessions, and even surveys on our hand-held devices. It was a great turnout, and we received great feedback during our lunch session, where people from the site noted that they were excited about what's coming next from RESOLVE!​​​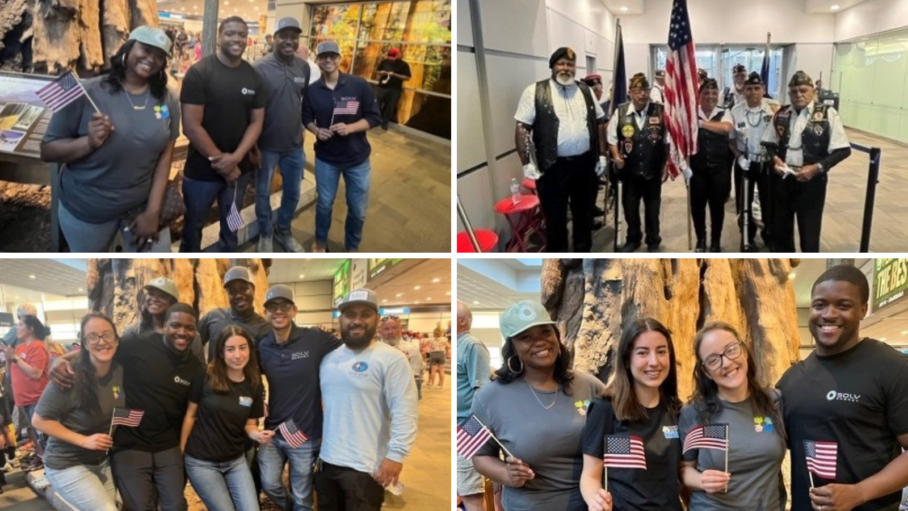 Solar Blue and Chestnut
SOLV Energy HV Project Engineer, Daron Harris: One of the first things we noticed on this site was the impressive workforce. The people on the site were extremely busy with nonstop work, so it was meaningful that they were able to join our workshop. It showed they cared and wanted to hear what we had to say.

We volunteered with the Honor Flight Network at the Fresno Airport for the DEI In Action portion of stop 3. The Honor Flight Network is a national nonprofit organization comprised of independent hubs working together to achieve the Honor Flight mission.

​​​​Our goal was to give our nation's veterans the appreciation and honor they deserve. The veterans present served during World War II, the Korean War, the Vietnam War, and veterans of any service era who are critically ill. It was a great opportunity for our Resolve group to wave flags and cheer for this special group of people.

Back to all news